Malawi is bordered by Zambia on the west, Mozambique on the east to south and Tanzania on the north. Fondly called as the Warm Heart of Africa because of the amiable nature of locals here. Although least discovered among the countries in southeastern Africa, but that doesn't mean it doesn't boast the same natural beauty as its neighboring countries. Read through and discover these beautiful places in Malawi.
LAKE MALAWI
You can't skip Lake Malawi from your list of must-sees because it is the largest freshwater lake in the country and in fact, it occupies 1/3 of the country's area. The golden beaches are a hit especially the ones near the capital. You can also dive and snorkel here and be rewarded with an underwater beauty. Aside from the most famous tourist attraction of the country, the lake also serves as the locals' source of sustenance.
LIKOMA ISLAND
This Malawian island in Mozambique waters is a lovely peaceful island with beautiful beaches where you can take a peaceful walk around since there is a limited number of cars in the island. A serene getaway can make you appreciate the simple ways of the locals. A cathedral was built in this island in the early 1900s and is another site to visit to. Hop in the MV Ilala on their schedule cruise if you want to explore Likoma Island.
LIWONDE NATIONAL PARK
When you say Africa, the first thing that comes in mind is, of course, the wildlife; and if you are in Malawi the grandest big game safari park is Liwonde National Park. You can take a boat or jeep safari to encounter the animals you just usually see in zoos like rhinos, elephants, crocodiles, hyenas, antelopes, hippos, leopards and many more. This time these animals are out roaming the land in their natural habitat instead of being locked in cages.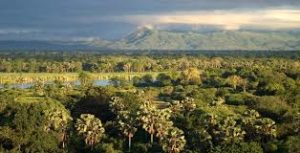 MULANJE MOUNTAIN
Scenic views await you if you decide to trek Mount Mulanje at over 3000 meters. Thyolo Road will lead you to a panoramic view of sprawling tea estates, and the highest peak is Sapitwa Peak. You can go overnight in any of the 12 camping huts fully equipped with camping and cooking equipment. Here you'll see Mulanje Cypress that grows to a height of 45-meters and has dense leaves and cones.
CRAFT MARKETS
There are a lot of craft markets across this small country and you can shop for trinkets or wooden masks for souvenirs here. African arts and crafts are also very vivid and unique from wood carvings, paintings, and beadworks or clothing. Use your haggling skills here to shop for lovely things to bring back home.